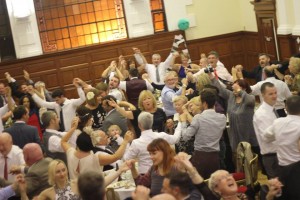 The definition of 'Master of ceremonies' is below, as per dictionary definition. It's a noun, it has a very dry description and sums up how most MOC conduct themselves. Usually someone who has no connection to the bride & groom shuffles along, looking nervous, slightly awkward and produces the static and underwhelming statement "Please be upstanding for the bride and groom!" I mean come on! How dull! How lifeless! How impersonal! How could the MOC not even be bothered to use the bride and groom's names?
This is exactly the opposite of what I think a MOC is and should be.
Recently I sat down with a bride & groom who told me about their wedding day. I was a huge part of their wedding day but wasn't their master of ceremonies, this had been included in the venue's package. It was very sad hearing them say that this part of their big day was something they felt didn't reflect what they wanted. The speech and introduction was okay but not what they had anticipated or hoped for, they wanted that something extra special and meaningful.
I have always felt that being the master of ceremonies is truly one of the most awesome things to do for a couple. They are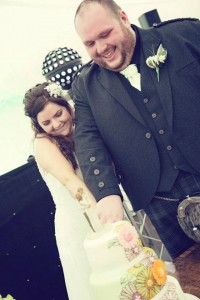 entrusting you to make them feel special and relaxed on their big day. They want to be the centre of attention and enjoy making their declaration of their love and happiness for one another a joyous event, shared with the closest of people.
I recently the great honour of being the master of ceremonies for one of my best friends. He's an amazing guy and I made and I  applied the same philosophy I do with all my clients.
I get to know them properly, I meet with them and find out about their personalities, their thoughts and views and gather a little information on the things that brought them together. In many cases I have become very close friends with former clients and that's a wonderful feeling.
It's so important to understand that a wedding day is not a run of the mill affair, it's the absolute joining of two people who love andrespect each other and want to share that with family and loved ones. It's so important to make that day as perfect and personalised as possible. I always include beautiful music and make sure I personalise the whole event from start to finish. It's these intricate details that can make a wedding day so special and full of wonderful memories. I guess I am a stickler that way and want every detail covered to its highest degree. After all, my clients are trusting me and honouring me to make sure their day goes smoothly. I make it my job to make sure that happens, everytime...
It's good to talk
I'd love to talk to you about making your day magical. Please complete the contact form or contact me on the details below:
Call: 07946 34 55 44
Email: info@stephenjelliott.co.uk
Facebook: www.facebook.com/stephenjelliotteven